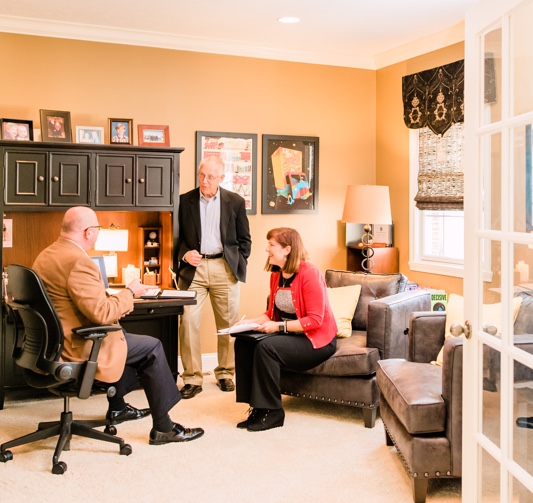 More importantly, we know how to tailor those habits for a unique set of circumstances and challenges. Anyone can read a book on organizational success. But to translate it for your company?
You need an advisor who knows you—your story, your struggles, your team dynamics, and how you take your coffee. That's the level of relationship we cultivate with our clients. Because that's what it takes to go the distance and achieve true, long-lasting success.
Those things that keep you up at night?
We can help.
Traversing the liminal space in business
Liminal comes from the Latin word for threshold, which is where many organizations find themselves on the growth continuum. You're leaving one frontier and headed toward the next, walking the path between the two. This space holds enormous potential, and we help organizations navigate with wisdom and intention.
Bringing the best out of your team
In today's workplace, we don't believe success requires "checking your humanity at the door." We help leaders identify which type of culture they've created—whether toxic, top-notch, or somewhere between—and create a highly specific plan to move in the direction of health. Because supported, healthy teams are effective teams.
Clarifying and executing strategy
Strategy is simply a set of choices that you can make today, in the face of uncertainty, to increase the likelihood of success now and into the future. For us, strategic planning is about articulating a roadmap around real problems to be solved and real opportunities to seize. How? By listening intently and sifting through the static to get at the real problems you're trying to solve. Every organization is an ecosystem, and we help you see it as such—understanding systemic issues and not just symptoms. Through facilitation and guidance, we help leadership teams clarify choices, promote understanding and buy-in of those choices, and most importantly, execute on those choices to achieve the company's vision for success.
Bringing the best out of yourself
Today's top performers know how to magnify their talents and produce more meaningful results for themselves and their organization. At Archos, we help you implement the subtle shifts in leadership behaviors that allow for this. By first understanding and then leveraging your strengths, your impact deepens and your capacity grows as you become more focused and effective.
Developing and retaining the best talent
The number one thing high-performers want from their organizations? Development. In order to engage and retain the very best talent, organizations must pair their talent with great managers. Truly effective managers are attuned to the evolving needs of their people and proactively find ways to help their teams continuously learn and grow—never hitting plateaus or stagnating.
Cultivating a business development culture
This is where an outside perspective and fresh insight really work their magic. We (literally) wrote the book on professional service sales, and help organizations see and develop the art of possibility to drive change in this area.
A few of the problems we love to help solve:
How do we remain independent?
Where are my next generations of owners, partners and leaders coming from?
How do we attract, develop, and retain great people?
How can we scale?
How do we build a robust culture?
How do we make sure everyone is rowing in the same direction?
How do we get our leadership team on the same page?
How do we optimize performance of our leaders?
How do we develop great managers?
How do we stay competitive in an ever-changing environment?
How do we create enthusiastic clients?
How do I prepare my organization to be Future Ready?
How do I thrive during times of change?
While Archos Advisors is a new name for this effective group of leaders, coaches, and change agents, it has been my pleasure to work with Diane Brown and Tom Porter for over 25 years. More recently, Dave Graham joined this dynamic duo to support the team in meeting the challenges facing today's employers. The group has helped our firm implement customized programs that not only meet the needs of the public accounting profession, but also allow our business to thrive in today's work environment. They have equipped the staff and future leaders of our firm with imperative resources and training. It has been invaluable to work with trusted professionals who are always available with proven advice and solutions.

Kimberly Wines, SHRM-SCP, SPHR, PAFM | Chief Operating Officer
SEK CPAs & Advisors